Award
Testimonials
"It does a great job. If you are looking for an image converter , it may be of help."
- Softpedia
"It is very easy to use. It is very effective in what it does.
I am very happy!"
- Andrew MacArthur
Find Us
Hot Guides & Tutorials
How to Convert TIFF to BMP
Tagged Image File Format (abbreviated TIFF) is a file format for storing images, popular among Apple Macintosh owners, graphic artists, the publishing industry, and both amateur and professional photographers in general. As of 2009, it is under the control of Adobe Systems. The TIFF format is widely supported by image-manipulation applications, by publishing and page layout applications, by scanning, faxing, word processing, optical character recognition and other applications. Adobe Systems, which acquired Aldus, now holds the copyright to the TIFF specification.
The BMP File Format, also known as Bitmap Image File or Device Independent Bitmap (DIB) file format or simply a Bitmap, is a Raster graphics image file format used to store bitmap digital images, independently of the display device (such as a graphics adapter), especially on Microsoft Windows and OS/2 operating systems. The BMP File Format is capable of storing 2D digital images of arbitrary width, height, and resolution, both monochrome and color, in various color depths, and optionally with data compression, alpha channels, and color profiles.
Here we recommend a professional and easy-to-use TIFF to BMP converter to meet your demands.
PearlMountain Image Converter allows you to batch convert images to other formats, resize, rotate, crop, add picture watermark, apply effects and add border to thousands of images at one time. With the help of PearlMountain Image Converter, everything will become so easy.
Below are the simple steps to show you how to batch convert TIFF to BMP format. Firstly, you should download and launch PearlMountain Image Converter.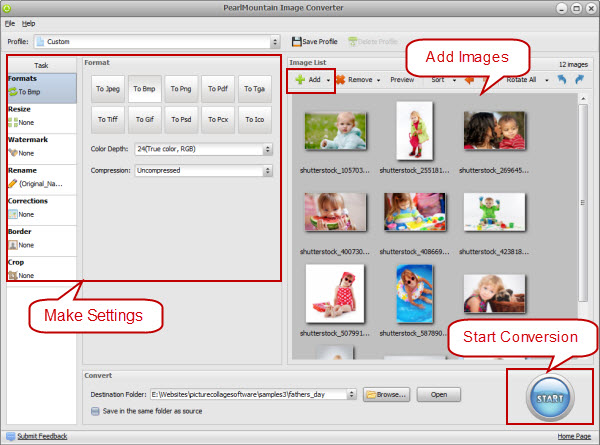 Step 1: Add Images
Click "Add" or "Add Folder" button to add your pictures in TIFF Format that you want to convert to BMP. All loaded pictures will be displayed in the Preview Area.
Step 2: Make Settings
Choose BMP as target format.
Adjust any needed settings..
You can also resize your images before converting them.
Step 3: Start Conversion
Click "Browse" button to choose a destination folder and Click the "Convert" button to start the conversion process.
When the conversion is over open the folder containing new images of JPG format and use them according to your needs.
Related Software
PearlMountain Image Converter allows you to convert images to other formats, resize, rotate, crop, add picture watermark, apply effects and add border to thousands of images at a time. It supports the 60+ image formats, including the most popular ones: JPEG, BMP, TIFF, PNG, PSD, GIF, TGA, ICO, PDF, RAW and many others.

Convert TIFF to BMP Now! (Free Trial)

Buy PearlMountain Image Converter ( $29.90 )