Award
Testimonials
"It does a great job. If you are looking for an image converter , it may be of help."
- Softpedia
"It is very easy to use. It is very effective in what it does.
I am very happy!"
- Andrew MacArthur
Find Us
Hot Guides & Tutorials
How to Convert Images to PNG Free
PNG (Portable Network Graphics) supports palette-based images (with palettes of 24-bit RGB or 32-bit RGBA colors), grayscale images (with or without alpha channel), and RGB images (with or without alpha channel). PNG was designed for transferring images on the Internet, not for print graphics, and therefore does not support non-RGB color spaces such as CMYK.
PearlMountain Image Resizer Free allows you to convert, resize and rename hundreds of images files in one time with a few mouse clicks. It's a fast and easy-to-use image conversion tool for both amateur and professional photographers to deal with digital photo.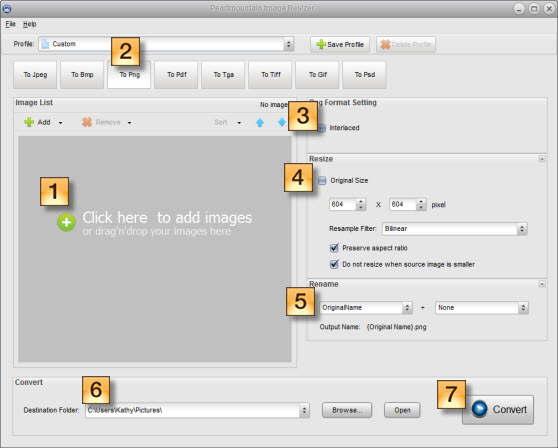 Here are the simple steps to help you convert images to Png format.
Step 1: Add Images
Load the images you want to convert to Png format.
Step 2: Choose Output Format
Press the "To Png" button to set the format which you wish to convert the images to.
Step 3: Format Setting
The converted images will appear interlaced by selecting "Interlaced".
Step 4: Resize
Resize the picture in the Resize area. You can select Original Size to keep the size of the original images. And you can change the image size by change the numbers in the space below. You can keep the width-height ratio of images by selecting "Preserve aspect ratio". When the target image is larger than the original image, the program will save the original size of the image by selecting "Do not resize when source image is smaller".
Step 5: Rename
Use "Original Name" to keep the original name of the images. You can also change the name of images. The "Output Name" will change as you inputting rename text added with a chosen suffix.
Step 6: Save
Choose a destination folder for the converted images.
Step 7: Convert
Press the "Convert" button to start converting images.
Related Software
PearlMountain Image Converter allows youto convert images to other formats, resize, rotate, crop, add watermark, apply effects and add border to thousands of images at a time. It supports the 60+ image formats, including the most popular ones: JPEG, BMP, TIFF, PNG, PSD, GIF, TGA, ICO, PDF, RAW and many others.

Download Now ( Free Trial )

Buy PearlMountain Image Converter ( $29.90 )