Award
Testimonials
"It does a great job. If you are looking for an image converter , it may be of help."
- Softpedia
"It is very easy to use. It is very effective in what it does.
I am very happy!"
- Andrew MacArthur
Find Us
Hot Guides & Tutorials
How to Resize Hundreds of Images for Web Use
There are many reasons to upload an image to the web. For example you may be designing your own website, posting to a forum, or creating an avatar. When you're choosing a format for putting images on the web, the most important criterion is file size, on the web, the larger the image size the longer it will take the web page to load. For this, you want file sizes to be small so it doesn't take too long to download each image. What you will do is to discover what size you need to make our pictures for posting on a website.
PearlMountain Image Resizer is a perfect tool for resizing your pictures and photos from digital cameras. It is very easy to use and can resize many images at once. The following steps will show you how to resize hundreds of images for web use.
Firstly, you should download and launch PearlMountain Image Resizer.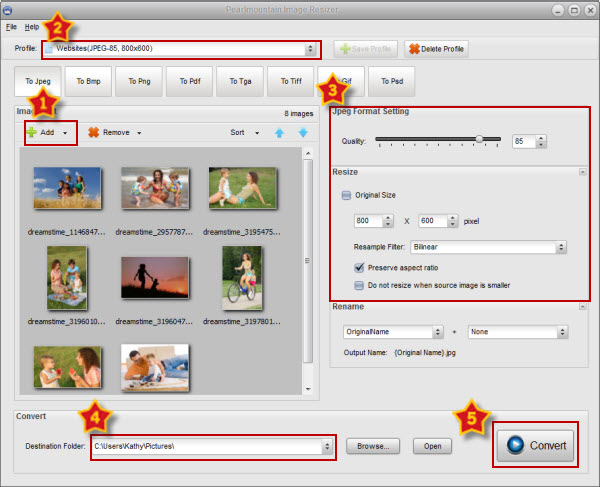 Step 1: Add Images
Click Add or Add Folder button to add hundreds of images that you want to convert for the web use, in the opened window browse for the needed images and press the Open button. All loaded images will be displayed in the Preview Area.
Step 2: Choose Output Profile
Click the "Profile" ComBox and select "Websites (JPEG-85, 800×600)", the format settings will be set automatically on the right window.
Step 3: Format Setting
As the format setting was set automatically, then you can go to the next step. In addition, you could personalize the format settings by dragging the Quality slider and changing the size.
Step 4: Save
Next, you need to select the location where you want the new images saved to. Choose a destination folder that is convenient for you to locate and use or you could save it in the original folder.
Step 5: Convert
Press the "Conver" button to start converting images. After conversion, the converted images can be found in the destination folder.
By using free PearlMountain Image Resizer you can quickly prepare your images for the web use and all the most popular graphic formats are supported so you won't need other expensive programs. This software is capable of not only resizing a batch of photos it can also do several other tasks to your batch of photos as well such as renaming.
Related Software
PearlMountain Image Converter allows youto convert images to other formats, resize, rotate, crop, add watermark, apply effects and add border to thousands of images at a time. It supports the 60+ image formats, including the most popular ones: JPEG, BMP, TIFF, PNG, PSD, GIF, TGA, ICO, PDF, RAW and many others.

Download Now ( Free Trial )

Buy PearlMountain Image Converter ( $29.90 )