Award
Testimonials
"It does a great job. If you are looking for an image converter , it may be of help."
- Softpedia
"It is very easy to use. It is very effective in what it does.
I am very happy!"
- Andrew MacArthur
Find Us
Hot Guides & Tutorials
How to Make an Animated GIF Image
Animated GIF is an image file that displays a series of pictures, like a flip book, giving the impression of movement. GIF animation has no conflicts with browser compatibility. Still, it has the advantage of not needing to be programmed by the designer. Creating GIF animation is fairly simple and gives you a chance to see how layers work in the program. It can be made in a number of different ways using different software. But how can we make an Animated GIF Image?
There is a powerful tool for creating animated GIF images which doesn't cost a dime, PearlMountain Image Resizer, the popular free image converting software, has the ability to create animated GIFs. Below are step-by-step instructions on how to make animated GIF images using PearlMountain Image Resizer.
Download PearlMountain Image Resizer, install and launch this program.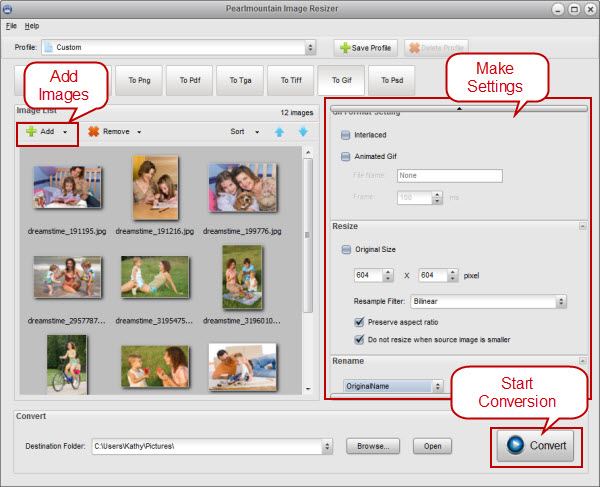 Step 1: Add Images
Click "Add" button to add images.
In the opened window browse for image files to select a serious of images you wish to convert into animate GIF and press the "Open" button. All loaded images will be displayed in the Preview Area.
Step 2: Make Settings
Click "To GIF" as the output format on the top menu.
Then "GIF format setting" pop up on the right of the window, set the parameters as required, select Animated Gif, write down the file name, meanwhile you could manipulate the speed of animation by changing the millisecond of Frame.
You will be able to resize your images as you want, PearlMountain Image Resizer supports to adjust your image size from 1-9999 pixel, or you can keep it as original size.
Step 3: Convert Images
Once you have made your settings, Click "Browse" button to choose a destination folder to save your images.
Click on the "Convert" button to begin the conversion process. After conversion, open it up in your image viewer.
Making an animated GIF is pretty easy, and really helpful. See, wasn't that easy! You can get even more creative with this PearlMountain Image Resizer as you learn to convert other image formats.
Related Software
PearlMountain Image Converter allows youto convert images to other formats, resize, rotate, crop, add watermark, apply effects and add border to thousands of images at a time. It supports the 60+ image formats, including the most popular ones: JPEG, BMP, TIFF, PNG, PSD, GIF, TGA, ICO, PDF, RAW and many others.

Download Now ( Free Trial )

Buy PearlMountain Image Converter ( $29.90 )