Award
Testimonials
"It does a great job. If you are looking for an image converter , it may be of help."
- Softpedia
"It is very easy to use. It is very effective in what it does.
I am very happy!"
- Andrew MacArthur
Find Us
Hot Guides & Tutorials
How to Resize a Mass of Images for Email Sending
One of the joys of photography is being able to email treasured images to family and friends. As everyone knows how frustrating it is when we have a bunch of photos that can't download. Even though we now have digital cameras, the pixel size has increased and has the size of the original photo, so the images that are too big to email. The problem, as you've discovered is that your images are physically too large to use.
Fortunately you can eliminate this by resizing a mass of images using PearlMountain Image Resizer before sending via email, with this converting software, large files can be downloaded for a little time in batch with a few mouse clicks.
Download PearlMountain Image Resizer, install and launch this program.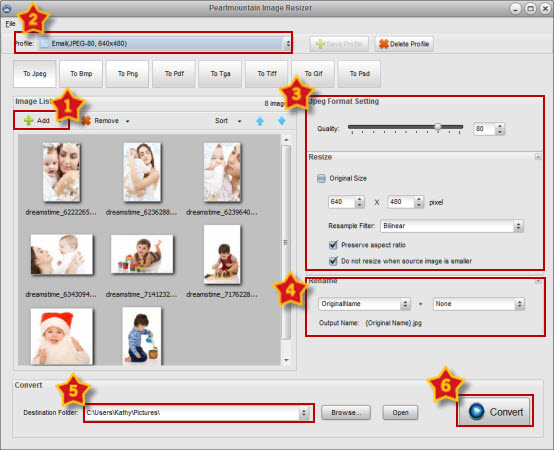 Step 1: Add Images
Click "Add" or "Add Folder" button to add a mass of images that you wish to convert for email sending, in the opened window browse for the needed images and press the "Open" button. All loaded images will be displayed in the Preview Area.
Step 2: Choose Output Profile
Click the "Profile" ComBox and select "Email (JPEG-80, 640×480)", the format and resize settings will be set automatically on the right window.
Step 3: Format Setting
As the format setting was set automatically, then you can go to the next step. In addition, you could personalize the format settings by dragging the Quality slider or input a number in the space behind the slider. The size has been set to fit Email, you don't need to change it.
Step 4: Rename
When changing the name of images files, you could see the "Output Name" changes as you input the name and suffix. Meanwhile, you could keep images as "Original Name".
Step 5: Save
Once you have made your settings, click "Browse" button to choose a destination folder to save your images or you could save it in the original folder.
Step 6: Convert
Click on the "Convert" button to begin the conversion process. After conversion, the converted images can be found in the destination folder, open it up in your image viewer.
By using free PearlMountain Image Resizer, you can quickly email your pictures and photos for sharing with your friends and families.
Related Software
PearlMountain Image Converter allows youto convert images to other formats, resize, rotate, crop, add watermark, apply effects and add border to thousands of images at a time. It supports the 60+ image formats, including the most popular ones: JPEG, BMP, TIFF, PNG, PSD, GIF, TGA, ICO, PDF, RAW and many others.

Download Now ( Free Trial )

Buy PearlMountain Image Converter ( $29.90 )